Alcis Family Run
Alcis Sports
along with
Coach Ravinder
is welcoming 2019 with a run designed specifically for families. NCR will witness its
first full- fledged family run
. With 11 types of running combinations (a walkathon) for a team of two – it is leaving no stone upturned to get families to come out and explore the joy of running together. Because together is always better.
Keeping a runner's 'never say die' spirit, a solo 10k category has also been included for those who want to run hard and strong.
Alcis Family Run starts in:
Why a Family Run?
►
We currently live in the times of nuclear family set up. Both parents maintain full-time careers and no matter how hard they try, spending quality time with kids is even more hard work! Running is a happy movement and an inexpensive way to spend time together. Know more at
https://www.alcissports.com/
.
►
A reason to get away from our gadgets. Families and kids don't need to check their mails, online apps and games when they get together for a fun outdoor activity like running. It is as simple as that.
►
When family members set a goal, cross that finish line together through their training together, their determination – what they are actually doing is creating memories for a lifetime.
Who is Alcis Sports?
Alcis Sports is a
premium cutting-edge Indian performance wear brand
, providing highest standards of quality, styling and technology and at the same time affordable to an average Indian consumer. Alcis Sports today has a wide portfolio featuring the latest garment technologies spread across categories like running, training, yoga, football and racquet sports. It has 700 outlets across India with 11 exclusive brand stores, online and large format store presence.
Alcis Sports was the exclusive manufacturing, sales and distribution partner for the 2018 FIFA World Cup Russia Licensed Apparel Merchandise in the country and has tie-ups with leading sports entities such as the hugely popular Pro Kabaddi League (Haryana Steelers and all match referees), among others
Technology plays an integral part in Alcis Sports and all its apparels are equipped with the latest technologies that garment manufacturing has to offer. The products are specifically designed keeping Indian lifestyles and weather conditions in mind.
Runners Takeaway from the Alcis Family Run: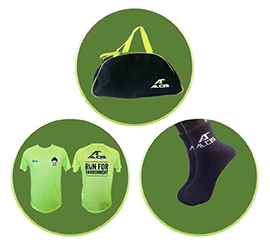 ►
Every Alcis Family Run participant gets
an extraordinary tee
because it is made 100% from recycled pet bottles and has 8 technologies, such as Dry-Tech (moisture management), Anti-Odour, Anti-Static, Anti-UV and Light X, One pair of Socks, One Duffel Bag; worth Rs 2099/-
►
Breakfast
►
Finisher Medal
►
Timing/ participation Certificate
Running is a green activity. It does not harm the environment as all it takes is a good pair of running shoes and track.
Keeping the many benefits of running together as a family and the impact of running on an environment – the Alcis Family Run urges you to
Run for the Family, Run for the Environment
.
...more details